Significance 
More often than not, biomass from both animal and plants goes to waste; and with it, abundant unrecovered resources (such as phosphorous) that would help offset global pressure on the natural environment. For instance, biomass from crop-processing such as de-oiled seeds, grains, and nuts are phosphorus-rich raw materials with a hidden potential for recycling of the valuable element. Generally, phosphorous, in the form of phosphates is essential for life and occurs in many biochemical compounds. In addition, phosphorous fertilizers are a prerequisite to secure world food production. Globally, phosphorous is exclusively gained by rock mining as mineral deposits. Overall, the mining process is labor intensive, environment-unfriendly and at times involves child labor. With the current global trends inclined towards a sustainable lifestyle, the significance of phosphorous stewardship is increasingly being recognized. Concepts for resource management within the framework of a circular bioeconomy are gaining popularity. So far, in addition to plant- derived phosphorous, there are various alternative sources still available for exploitation: i.e. urine, feces, manure and digestates.
Generally, the possibility of replacing phosphorous from mining is known but not explored on a technical and commercial scale. Plants store phosphorous in an organically bound form called phytate, which occurs predominantly in seeds and grains. A thorough review of existing literature reveals that phytate extraction measures have so far aimed only at minimizing the effects of phytate and not at recovering the released phosphorous. Therefore, to bridge this gap, German researchers from the RWTH Aachen University: Kevin Herrmann (PhD student), Dr. Anna Joelle Ruff, and Professor Dr. Ulrich Schwaneberg proposed a novel yet broadly applicable, and environment-friendly process to recover phosphorous from commonly used agricultural residues. Their work is currently published in the research journal, ACS Sustainable Chemistry & Engineering.
In their approach, press cakes from 13 distinct plant press cakes were analyzed with respect to the phytate content by high performance liquid chromatography in order to how the general applicability of the phytase-based phosphorous-recycling process. Further, with the aim being to achieve energetically favorable and environment-friendly process conditions, the Escherichia coli wild-type phytase AppA was used to free inorganic phosphate from phytate at 37 °C and in aqueous suspensions without the use of acids or the addition of excess salts.
The authors reported that their phytase-based phosphate release approach was applicable to all different press cakes tested. This demonstrated the broad applicability of phytases in bio-phosphorous recovery. Indeed, the team mentioned that through large scale application, their technique had potential of quantities in excess of 1 million tons of phosphorous.
In summary, the research team introduced a novel broadly applicable process for recycling phosphate from plant biomass by utilizing phytase enzymes. Remarkably, the recovered phosphate was free of heavy-metal impurities and could be used as a green fertilizer in organic farming or for the biotechnological production of polyphosphates. In a statement to Advances in Engineering, Professor Ulrich Schwaneberg highlighted that in a circular bioeconomy, bio-phosphorous production would enable new and decentralized value chains and ensure sustainable and autarkic food production.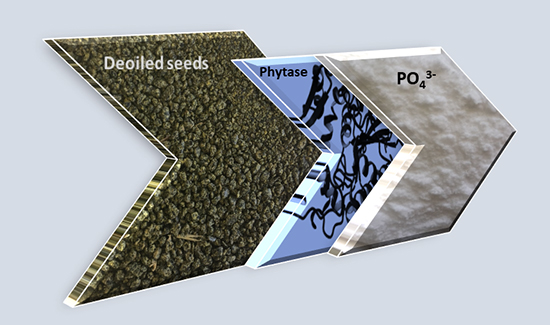 Reference
Kevin R. Herrmann, Anna Joelle Ruff, Ulrich Schwaneberg. Phytase-Based Phosphorus Recovery Process for 20 Distinct Press Cakes. ACS Sustainable Chemistry & Engineering 2020, volume 8, page 3913−3921.